Dr. Brian Nagy | February 8th, 2020
Posted In: Foot Surgery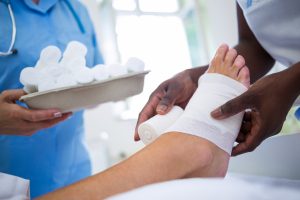 The quickest way to recover from foot surgery is to opt for minimally invasive surgery instead of traditional foot surgery. If you are having foot or ankle pain, treating the problem conservatively might not be enough. Your New Hampshire podiatrist may even recommend surgery. Traditional foot surgery can be painful, leave scars, and keep you off your feet for many weeks. If you want to recover in the quickest way possible, ask your podiatrist about minimally invasive surgery as an alternative. It could be the quick fix you need.
What is minimally invasive surgery?
The main difference between traditional surgery and minimally invasive surgery involves the size of the incision. Traditional surgery requires a large incision whereas minimally invasive surgery requires only a small incision. Laser surgery is also considered minimally invasive and requires no incision at all. During minimally invasive foot surgery, you will require little if any anesthesia and the procedure typically lasts only 15-20 minutes.
Because you are only dealing with a tiny incision, a short procedure time, and do not have to be put under, your recovery period after minimally invasive foot surgery will be much faster than after traditional foot surgery.
How long does it take to recover from a minimally invasive foot procedure?
After your procedure, you will be able to walk out of your podiatrist's office on your own. It is advisable to minimize the pressure you put on the foot that was operated on and engage in physical therapy to assist the healing process. You will be instructed to rest the affected foot and avoid weight-bearing activity for about a week. It may take a little longer to heal completely, depending on how fast your body typically heals and how well you follow your podiatrist's instructions. However, most patients are back to normal activity about a week after having minimally invasive foot surgery.
What are the benefits of a short recovery period?
Compared to the many weeks of staying off your feet after traditional surgery, minimally invasive procedures like HyProCure® allow you to return to normal activity quickly. This means you can get back to work in about a week and save your time off for vacations. If you are a runner, participate in local sports, or play a sport for your profession, your training progress won't be negatively affected like it would be after traditional surgery. With minimally invasive foot surgery, you will be able to return to your busy lifestyle without suffering the consequences of resting in bed or using crutches for weeks — or even months.
Patients who undergo major/traditional surgery often suffer physical consequences from the weeks of inactivity necessitated by a lengthy recovery period. They can also suffer from emotional consequences, such as depression and anxiety, that accompany long periods of bed rest, inactivity, being away from work, and not being able to participate in everyday activities. In these situations, the quick recovery period associated with minimally invasive surgeries is priceless.
Do you have questions about minimally invasive foot surgery?
Do you want to know more about HyProCure® and other minimally invasive surgical procedures? The professional and caring doctors and staff at Nagy Footcare want to help. At Nagy Footcare, we believe you deserve not to be in pain. We believe you deserve to be listened to with respect and compassion. We believe you should understand what is causing your foot problems and pain. We advise you on all of your treatment options — and which one is best for you. You deserve results from the most advanced and proven treatments available. That is why we are committed to earning your trust and exceeding your expectations. If you have questions about recovering from foot surgery, contact us today.
At Nagy Footcare, our best day is when you wake up with no foot pain.