Dr. Brian Nagy | January 18th, 2018
Posted In: Foot Problems, Running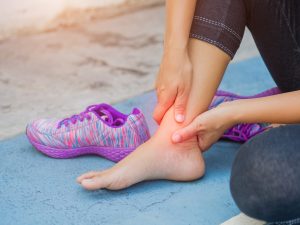 Do you experience continuous or repeated bouts of foot pain while running? If so, you might want to consider a walking program instead. Running can cause pain that affects your daily activities, alters the way you walk, and causes numbness and tingling in your feet. Running can also lead to serious foot and ankle injury, bunions, hammertoes, overpronation, misalignment, plantar fasciitis, shin splints, and other painful problems. See your New Hampshire podiatrist if you're experiencing foot pain. At some point, you may have to ask yourself whether running is really worth it and think about getting your exercise by taking up walking instead.
If you are experiencing foot pain while running, don't ignore it! Seek help from your qualified podiatrist who can establish and address the root cause of your pain. The more you run with pain, the more stress you put on your feet. The longer you wait to see your podiatrist, the more serious and damaging the problem will get. Starting a walking program, whether temporary or permanent, is a great way to get exercise and derive many of the same health benefits running provides — without pain.
Wear the Right Shoes
You've probably already heard this one, but it's always worth mentioning. Even though you're putting less stress and tension on your feet when you walk, your walking shoes need to support you just as much as your running shoes do.
Start at Your Own Pace
The Mayo Clinic suggests you start with a slow warm-up walk for about five minutes, work up to a speed of about four miles an hour for 20 minutes, and slow back down for the last five minutes of your 30-minute walk. If you're unable to walk that much at first, build up your time and speed according to your ability. Aim for power walking if you're used to a strenuous running workout.
Monitor Your Heart Rate
If you're walking at a brisk but seemingly comfortable pace but are unable to talk while you're walking, your heart may be beating too fast. You can also wear a monitor that tracks heart rate, steps, and other helpful statistics.
Stay Hydrated
Just like with running, you should beware of dehydration. Carry a water bottle while you walk and take frequent sips of water whether you think you need to or not.
Mind the Sun
Wear sunscreen, a hat, and/or protective clothing if you're out walking in the sun. Exposure to the sun can lead to overheating, sunstroke, and skin cancer.
Walk Most Every Day
Expert studies conducted by the New England Journal of Medicine found that people who walked five days a week or more, for 30 minutes, had a 30 percent lower risk of getting heart disease. In fact, you need to walk almost every day in order to reap all the rewards of a walking workout.
The Benefits of Walking vs. Running
According to the National Institutes of Health (NIH), brisk walks reduce your risk for high blood pressure, cardiovascular disease, high cholesterol, and diabetes just as much as running does. The American Heart Association (AHA) recently conducted research on 48,000 runners and walkers mostly in their 40s and 50s, and came to the same conclusion.
Additional benefits to walking include the ability to work out at your own pace, indoors or outdoors; weight loss, especially when accompanied by a healthy diet; and, just like running, your mood and creative impulses may improve.
If you experience foot pain while running, you don't have to give up exercise. Nor do you have to stop enjoying the benefits of running. After visiting your New Hampshire podiatrist, consider a walking workout. You might discover that you enjoy it even more than running, especially if running is causing pain and damage to your feet. At Nagy Footcare, we believe you deserve to be free from foot and ankle pain. If you have symptoms or conditions that are causing foot pain while you run, Dr. Nagy can help determine the source of the pain, provide you with the best treatment options available, and talk with you about starting a walking workout. Contact us today.  For more information on foot pain while running check out our free eBook 5 Reasons Runners Shouldn't Ignore their Foot Pain.
At Nagy Footcare, our best day is when you wake with no foot pain.