Dr. Brian Nagy | May 3rd, 2018
Posted In: Foot Surgery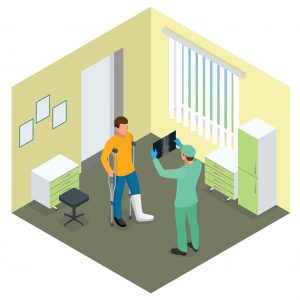 Do you need foot surgery? Before you schedule your procedure, there are several things to consider when it comes to deciding where to have it. You deserve to be comfortable with your decision to have foot or ankle surgery, and you also deserve to be comfortable when and where you have it. We believe you should be listened to carefully so we really understand you and your feet. So we will look at you as an individual, listen to you and customize your treatment.
Below are some things you should look for (and look out for!) when evaluating the place where you will have foot surgery.
Cleanliness
Is the place clean? One of the most important things to look for in your podiatrist's office and/or surgical area is cleanliness. A place that is not properly or regularly cleaned can be full of germs; this increases your risk of infection during foot or ankle surgery. Furthermore, if the place isn't clean the surgical tools, doctor's hands, and recovery area might not be clean either. Don't put yourself at risk for infection; make sure your foot surgery is performed in a clean environment.
Smell
What's that smell? If you experience unpleasant smells when you're getting ready to have surgery on your foot, something is wrong. Foul odors can be a sign that the place is not clean, the garbage doesn't get taken out, there's a gas leak, or something else is going on that does not bode well for a successful procedure. Additionally, nasty smells can make you nauseated while you're trying to recover. If the staff doesn't seem to be bothered by bad smells, what else might they not be paying attention to? Do yourself a favor and choose a podiatrist's office that smells clean and has a pleasant atmosphere.
Aesthetics and Comfort
You may already be a little nervous because you're about to have foot surgery. If your podiatrist's office is uncomfortable, dingy, or unpleasant, you may feel extra stress that you don't need and can hamper your recovery. Whether you're sitting in the waiting room, in the middle of your surgery, or resting in the recovery area, you should feel as comfortable and relaxed as possible. You don't have to love the artwork in your podiatrist's office, but the environment there should be well lit, neat, aesthetically pleasing, and comfortable.
Reviews
You might want to look for reviews of your podiatrist and his office before you sign up for foot surgery. Check your podiatrist's website or a review site like Yelp for reviews from previous patients. If you're unable to find many reviews online, that's good news as people are quicker to write a poor review than a positive one.
Doctors and Staff
Your podiatrist and his staff should make you feel at ease. Are they willing to answer all your questions? Being treated well can improve the environment and make you feel more comfortable about having foot surgery. You don't have to become best friends with your podiatrist, but you do deserve to feel respected by, and important to, him.
Dr. Brian A. Nagy is a board certified fellow with the Academy of Minimally Invasive Foot and Ankle Surgery and the American Board of Podiatric Medicine. Additionally, he has successfully completed the required training to become a Qualified HyProCure® Surgeon. At Nagy Footcare, we are committed to listening to you, earning your trust, providing a compassionate and professional environment, and exceeding your expectations. We believe you deserve to understand your diagnosis and treatment options, should get results as quickly as possible, and deserve a doctor who offers the newest proven technologies and treatments. Do you need foot surgery? Contact Nagy Footcare today and let us help you.
At Nagy Footcare, our best day is when you wake up with no foot pain.